Candy Swirl Crochet Hat pattern
The Candy Swirl Crochet Hat pattern is a pretty beanie cap for newborns. This crochet hat pattern can be adjusted for older children and adults too.
The Candy Swirl Crochet Hat Pattern is one of my favorite hats that I made. It can be made into a beanie or crochet cap for a newborn or little baby. With a little variation you can even convert it to a Cloche style hat.
In this post, you will find easy step by step instructions with diagrams and written instructions.
Why it is called Candy Swirl
As soon as we found out that I was expecting a girl, I came home and crocheted this beanie for my newest daughter. She'd be my fourth child and possible my last baby. I found a variegated yarn that made me instantly fall in love!
'I bet a beanie in this color will look like a candy!'
I was right it did! So that is why it's called the Candy Swirl Beanie! 🙂
I made this Swirl Beanie in 2013. When I shared the picture here on the blog, so many readers emailed me asking for the pattern.
The original crochet hat pattern was in Russian. I don't speak Russian so following just the graphics, I had unintentionally made a few changes to it because I couldn't follow what she was saying. I google translated to and fro to understand what she was saying but even then, I think I ended up changing quite a bit. I had promised to give you all my own version of it then. So, here is the pattern now.
Details about the Candy Swirl Crochet Hat Pattern
PLEASE NOTE: This pattern is not my own. I have tried to translate it from Russian for English speaking crocheters. The original pattern can be found here. No Copyrights have been broken.
I know the crochet hat looks quite advanced-skills kind but trust me it is quite easy and intermediate level. There is only one set of stitches that keep being repeated round and round. The design takes on all by itself and if you have the right kind of yarn, the hat comes out beautiful. I recommend that you use variegated yarn because the change in colors makes it look all the more stunning. I used a special yarn that is made of bamboo.
It was my first time working with this yarn and I liked the over all look of it but honestly, I wouldn't recommend it if you want to wear it often. The yarn is heavier and the hat came out quite heavy for a baby. Our CuppyCake wore it only once when she came home from the hospital and then we kept it as keepsake. I recommend you use some cotton variety for better results.
Can this crochet hat be made for adult or older children sizes?
Yes you can! This newborn crochet hat (or Beanie) pattern can very easily be adapted for adult sizes. You can keep increasing the rows till you have the desired size for an adult or older child.
Alternatively, you can use a different yarn. Just use a thicker yarn and bigger hook. I have made this very same pattern for my older daughters at different ages. This crochet hat can be modified to have a cloche style or even a sun hat. It is very versatile.
The Candy Swirl Crochet Hat Pattern:
Click the image to get the diagram for the Candy Swirl crochet hat. FO the written pattern you can scroll below.
Abbreviations and Stitches:
Ch- Chain
Sc- Single Crochet
Dc- Double Crochet
FPDC- Front Post Double Crochet
BPDC- Back Post Double Crochet
FPSC- Front Post Single Crochet
BPSC- Back Post Single Crochet
Step by Step Written Instructions for Candy Swirl Crochet Hat Pattern:
The original crochet pattern from the Russian site already contains the instruction in photos. I will not be repeating here. If you are interested in seeing the pattern in pictures, you can go here.
If you want the PDF with written and graph, click here.
Row1. Make 15dc into a magic ring. Join with slip stitch on top of first dc. (If you are more comfortable with chains you can begin with ch2 and dc into it.)
Row2. Ch1 to begin next row. Make a Front Post Double Crochet(fpdc) in the dc of previous chain. dc in the very same stitch. Continue around with FPDC and dc in all the stitches of the previous row. (FPDC is made over and around the dc of previous row rather than the loop on top of the stitch! Tutorial to FPDC coming soon))
Row 3. Ch1 to begin, FPDC in the FPDC of previous row followed by a 2dc in the same stitch. Do not crochet in the dc of the previous row. You will only crochet in the FPDC. Continue around with FPDC, 2dc all around and slip stitch to move to next row.
Row 4. Ch1 to begin. FPDC, 3dc in FPDC of previous row all around
Row 5. Ch1 to begin. FPDC, 4dc in FPDC of previous row.
Row 6. Ch1 to begin, FPDC, 4dc and ch1 in FPDC of previous row. Continue around.
Row 7. Repeat Row 6 till you have the required size of the cap.
Band:
FPSC and BPSC in every stitch of the last row.
FPSC in FPSC and BPSC in BPSC of last row around.
Repeat row two till you have required size of brim.
Here is a pinnable image:
I know it looks quite complicated but it is quite easy when you start doing it. The author to the original pattern had said it could be done in a day. I finished it in 4hours! 🙂
PLEASE DO NOT PIN THE PDF FILE TO PINTEREST. You are welcome to pin this page but don't link directly to the pdf file. This is against the rules of sharing my patterns. Read full policy and disclosure to know how you can and cannot use my patterns.
Interested in more crochet patterns? Try our other favourites.
Gold and Diamonds Hat
Pearl in Summer Panama
Super Easy No crochet Braid Hats
Get the pattern delivered to your inbox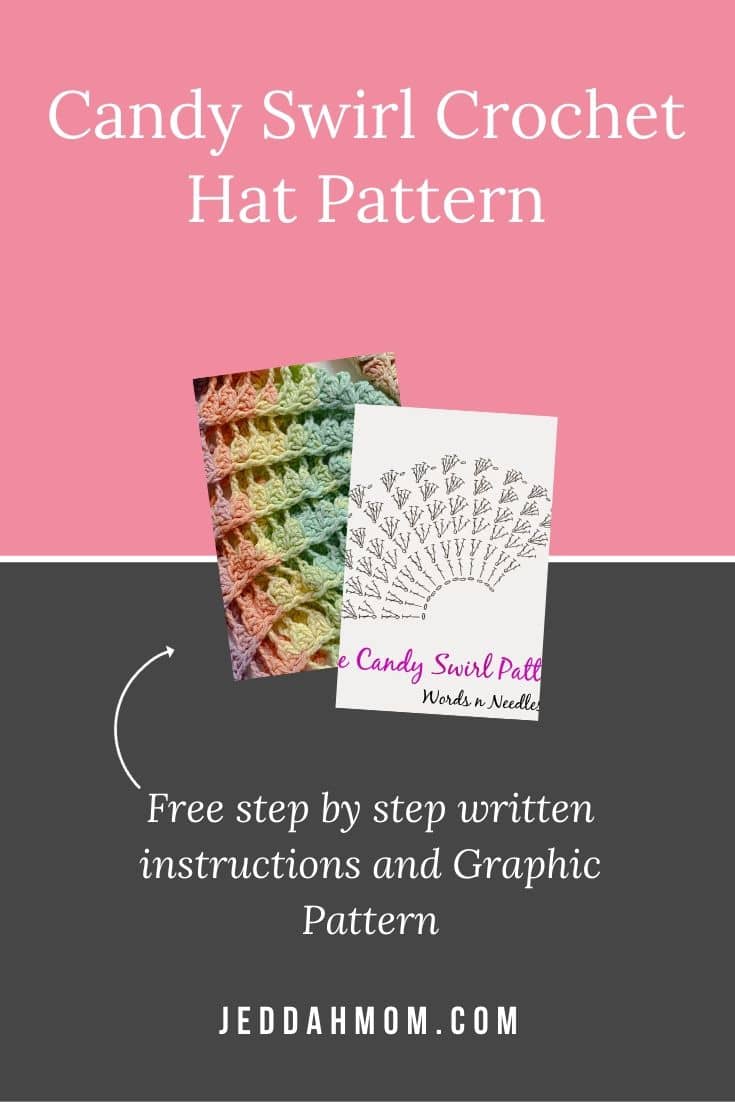 By signing up for this newsletter you are giving us permission to email you with updates about new blog posts, printables, courses, and other resources. We promise never to spam you. Powered by ConvertKit